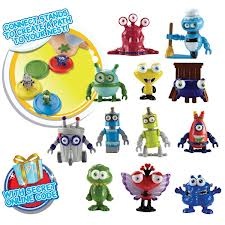 Bin Bots are little pet creatures that you can obtain in Binweevils. They are housed in the 'Bin Bot Portal'. You can buy Bin Bots for 18 Dosh from the claw machine at Lab's Lab. Tycoons can also trade Bin Bot's with other people to complete their collection.
History
Bin Bots were first announced in mid 2012 when the question mark portal became the Bin Bort Portal. When clicked on, it played a short animation adveritising the future arrival of Bin Bots.
Soon after, a story of the Bin Bot's began to be revealed in chunks. Every once in a while, a new 'chapter' in the story would be revealed in the Bin Bot portal. This story is titled 'The Origins of Bin Bots'.
When the story was finsihed, Bin Bots were finally added. As was the claw machine at Lab's Lab where you can get them from. Obtaining a bin bot costs 18 dosh and gets you 200 XP.
In December 2012, the 'swapping' feature was added where tycoons could trade Bin Bots with other tycoons.
As of 2014, You can't trade Bin Bots. Yet people are trying to find ways to do so.
Current Bin Bots
-Brainless Bot
-Munch Bug
-Flutter bug
-Mulch Mite
-Fire Bot
-Sweep Bot
-Minox
-Tonk
-Bunny Bot
-Rockilla
-Slug Bug
-
-
-
-Ice Bot
-Barf Bot
-Fire Fly
(Bin Bots in italics are ones only available with the 'Tink's Blocks' ipad game)
From Bin Bot Maker
Please add to the list if a Bin Bot is missing.