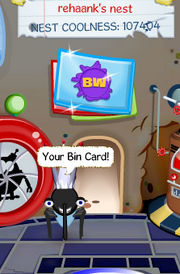 Your Bin Card
Your Bin Card is a little daily reward thing. Your Bin Card has many rewards that you can earn! This is a very good way to get more mulch/dosh and get some great vouchers! There are many other prizes to. Your Bin Card is where you stamp the card everyday and get a prize. Once you finish once card, you move onto the next one, and then the process repeats until you go onto bincard# 16.
Rewards and Prizes
There are many rewards and prizes you can earn. Theese are things like:
Mulch
Dosh
Puzzle Piece
Exclusive Seeds
Nest Items
XP
Once you have completed the all of the Bin Cards, you will receive all puzzle pieces that you may have passed on when not being a Bin Tycoon.
Bin Tycoons Only
However, there are some rewards that can only be obtained by Bin Tycoon Members. Non-Tycoon Memebers can not get those prizes. The rewards are: (for bin tycoons) Vouchers; puzzle pieces and mystery plants.
The BinCards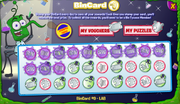 On your Bin Cards, there are many characters who represent the card. The order of those characters are:
Tink
Clott
Bunty
Posh
Dosh
Scribbles
Flam
Gam
Lab
Nest Inspector
Garden Inspector
Thugg (W.E.B)
Fling
HOW MANY Bin Cards are currently in the game?
There are currently 16 bin cards.