Figgs Cafe


Vital statistics
Location
East of Rigg's Palladium
Release Date
2009
Character
Figg
Attractions
Ice Cream, Food
Games
None
3D Features?
No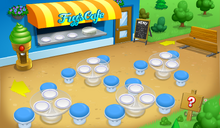 Figg's Cafe is an eating establishment in Bin Weevils which is owned by Figg, a female Weevil in the Rigg family. It is on the same stretch of ground as Rigg's Movie Multiplex and Weevil Post. It is also neighbouring Club Fling.
Much like Tum's Diner, you can consume food at a table or serve food by grabbing a tray and clicking on a blue blob to select a food item to serve to a customer.
All food that isn't ice cream, will cost the player 25 mulch to eat. Ice cream is only 10 mulch.
History
Figg's Cafe was first introduced in 2009, after construction decorations arrived in Rigg's Palladium.
Figg's Cafe has had minor changes since it's creation. The font of the "Figg's Cafe" sign has changed, and the walls are no longer covered with slime. The background also has a more natural design. No features have been added or removed, apart from the Ice Cream machine, which was a later add in 2010.
Food available

Slime Sandwich
Club Sandwich
Bin Scone
Crushed Beetle Meringue
Dirt Doughnut
Mould Mousse
Eclair De Bin
Ice Cream from Ice Cream Machine