Gong's Pipenest


Vital statistics
Location
Bin Top
Release Date
2007
Character
Gong
Attractions
Pipes, Promotional Advertisements, Haggle Hut, Competitions
Games
None
3D Features?
No
Gong's Pipenest
is a location in Bin Weevils. The activities there are accessed via three pipes, thus making it a "pipe-nest".
Pipes
Pipe One
The pipe on the far left is rarely used, and is only used for promotional events as gateway to themed locations.
Pipe Two
The pipe in the centre houses the Haggle Hut, where players can sell unwanted items for mulch.
Pipe Three
The pipe on the right has the Competitions, where players can enter to win items in real life.
Now, there are only three pipes and one bridge left. One pipe is used for competitions, as for the other two, weevils can jump between them, and the bridge leads to Rum's Airport & Tum's Diner.
History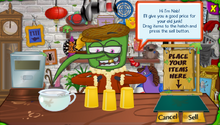 Gongs Pipenest used to only have the Competitions Pipe. The Ticket originally took players to Rigg's Movie Multiplex, then called Rigg's Palladium. Since then, the Ticket Lost its function, and Pipe Two opened.