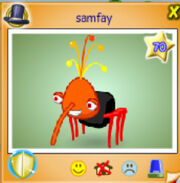 Bin Weevils is a free 3D online virtual game for kids. Bin Weevils is set in a dustbin full of weevils where you can chat, play 3D games, watch movies, blog and much more. Your weevil lives in a nest where you could decorate, invite on line friends and have fun.
Bin Weevils first appeared as a cartoon series on Nickelodeon in 2003 and due to its success as an online virtual world was made on the Nickelodeon site called 'Bin Weevils'. The 'Whats New Blog' was created for more information on whats happening in the bin. It was first announced in 2004 and got popular in 2005. In 2007, Bin Weevils launched their own separate site which was upgraded in April 2010. The site, ideas and the whole game was no longer owned by Nickelodeon after that date, but by its own company, 'Bin Weevils, Ltd.'.
In 2011, Bin Weevils had won the BAFTA Award known as the Best Website and to celebrate they released New Nest Items for their players. The success was repeated in 2012. That year they released and teamed up with the music label Sony to make up a new album called 'Bin Tunes', that was to be relaunched in 2013.
Bin Weevils again won the BAFTA Awards in 2013 and 2014 - but their luck finally ran out in 2015 when Minecraft instead won the award. Since then, the online game has not been nominated for the award over the last three years due to a sharp decline for the game.
In May 2017, Angus de Watteville was appointed the new CEO of Bin Weevils - taking over from Richard Watney. 
Sourced at Wikipedia- http://en.wikipedia.org/wiki/Bin_Weevils.