Scribbles has decided that Lia is an
article stub
. You can help Scribbles improve Lia by
adding more content
.
Lia is a weevil in Bin Weevils. She has appeared solely in SWS missions, the first being Mission 4. She later made an appearance in Mission 5, where it was confirmed that she was in fact Octeelia, the spider who operates WEB.
Appearance
Her appearance is that of a diminutively sized Bin Weevil, and she wears a purple top with a red dress. She has noticeably protuberant eyebrows and nose, which may be a sign that the disguise is rather poor. On the Bin Weevils cards, she is shown to have Octeelia's shadow. This is probably a non-canon reference to the fact that she is in fact Octeelia in disguise, although this not made clear officially.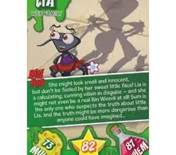 Skillset and Personality
She pretends to be naive and friendly, and is highly intelligent. She can both hack and operate much of the machinery in Lab's Lab , and she does bear a resemblance in persona to Sum , whom she (rather ironically) hates. According to her Bin Bio card, she pretends to be "sweet and innocent", although even in the first stages of the Lockdown in Lab's Lab mission, she shows a high intelligence and very little patience for somebody who is trying to be naive and innocent.
Roles in Missions
In the first mission, her role is quite simple. She pretended to be strung up in a web by Weevil X, and then gave the mission player her [upgraded] water pistol. She is then taken on as Lab's assistant, and thus opens the way to the next mission. In the second mission, she has hacked Lab's Lab, and you have to find her (although, you run into her a couple of times when she is still pretending to help you). In the explosion at the end of the mission, it is revealed that she is in fact Octeelia, the director of WEB.