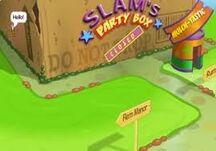 Slam's Party Box was the prime location in the Bin were parties were held. When parties are not held, Slam's Party's box remained closed. Slam's Party Box was also used for promotions and advertising, which is often disliked by people. Slams Party Box was next to Flem Manor and Rum's Cove, and was located in the Bin Side.
History
Slam's Party Box has been around since Bin Weevils was first created in 2003 as "Party Box", and it was one areas of the many that made it into the the 2007 release. Despite being around for a while, Slam's Party Box didn't host any parties until 2008. Slam's Party Box has looked just about the same since it was first created. The Mulch-Tastic booth was removed in October 2014, while Slam's Party Box was completely gone in February 2015.
Known Events
Christmas
Easter
Halloween
New year
Cat Party
Book Week
Trivia
A similar area, Slam's Toy Box, was released in 2017. This area doesn't host parties, and instead showcases a show called "Urchinz". The box is also a white wooden crate rather than an old cardboard box.