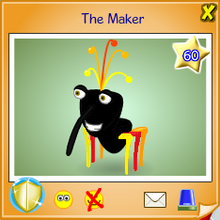 The Maker is a famous player in Bin Weevils.
General information
Creation
He was created on 23 January, 2008 in the late afternoon.
Popularity
He is quite well known, because he possesses a Super Antenna as well as Super Legs. He is also a high level.
Name
Some players believe that he is the creator of Bin Weevils, but he is not. He is owned by the Bin Weevils Team, and he was one of the players to be created in the old Bin.
Level
He has a high level, level 60. He has obtained 200,000 XP.
Garden size
His garden is a regular size.
Other accounts
The Maker possesses another Bin Weevils account called rss. This account was the first account to be created when Bin Weevils first began. It was made on 24 September, 2007, some months before The Maker's creation. This information was revealed by a member of the Bin Weevils team in the first episode of Ask the Bin Weevils team.
Gallery