Scribbles has decided that Weevil Weekly is an
article stub
. You can help Scribbles improve Weevil Weekly by
adding more content
.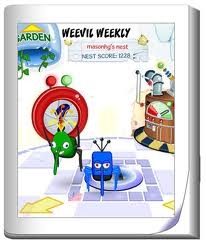 Weevil Weekly is the former official in-game magazine published on a weekly basis by Scribbles, discontinued with the addition of the new Weevil Post.
History
The first issue of Weevil Weekly was published in 2010. It was available, like all the issues are, in Weevil Post .
Weevil Weekly has continued to be published weekly until this day. It is usually published in the later half of the week: Wednesday, Thursday or Friday, however there are exceptions when a big update is on the way.
The only time where an issue was not published in a week was in 2012, where it was advertisised with the line 'Where on earth is Scribbles?'. The reason Weevil Weekly was not published this week was to advertise a Bin Weevils book.
Weevil Weekly was suddenly no longer available to view after the introduction of the new Weevil Post. It turned into 'Weevil Weekly Roundup' on the what's new blog every Friday. Despite this, it stopped with no word after #220, turning into 'Scribbles Investigates' which is now also on hiatus.
This brings an end to the wonderful and historic Weevil Weekly. After 220 weeks of issues, Bin Weevils decide to end this famous tradition.