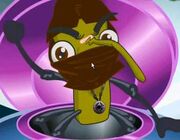 Rigg has some nests to rebuild, but still this article needs to be rewritten, as well! It is recommended you do that before Rigg rages.
Weevil X is an agent of W.E.B. He wears a brown mask, so it is hard to tell what he is meant to look like.  He is in fact the second-in-command of the W.E.B., the first-in-command being Octeelia, known as Lia.
He appears in the following missions:
Raiders of the Lost Bin Pet
The Hunt for Weevil X
Showdown at Tycoon TV Towers
LAST SIGHTED AT: Tycoon TV Towers, kidnapping Posh, Big Weevil and Bunty at the BINFTA awards ceremony in the Spider-Mech, one of the WEB's many weapons.
He wears a brown mask and has brown eyes. He also has a plaster where his nose meets his face, and has a chain with the WEB logo on it (a spider.)He kidnapped Lady Wawa the Bin Pet and brought her to the Bin Pet Temple,only to be stopped by SWS and Gam!